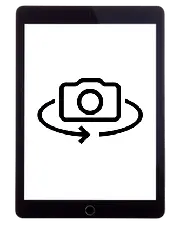 iPad Camera Repair & Replacement in Mumbai, Thane & Navi-Mumbai Experts
Has the camera of your iPad suddenly stopped working? For most of us, a working tablet camera is important. To get your broken iPad camera back to working optimally, bring it to the knowledgeable technicians at iPad Service Center.
iPad Camera Not Working?
Some iPad camera problems result from apparent damage, and other times the camera stops working, and it is unclear what the issue is. If you have trouble with your iPad's rear or front camera, stop by the iPad repair service.
Before you bring your iPad to a repair service, here are a few troubleshooting camera tips to try:
Check the Memory Card—Make sure your memory card is inserted correctly. Draw out the memory card and reinsert it carefully to ensure it is correct. Test the iPad camera again once you are confident that it is firmly in place.
iPad Camera Repair Cost
iPad Camera Repair Near Me / iPad Front Camera Repair / iPad Rear Camera Repair / iPad Camera Replacement