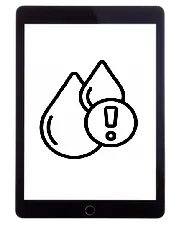 iPad Water Damage Repair in Mumbai, Thane & Navi-Mumbai Experts
iPad slipped in water? Unfortunately, a water-damaged iPad is not your device's end of the lane. An iPad damaged by water or fluid is our specialty, and this service is for you. Even if your iPad has no sign of life, the chances are we can change the damage. This diagnostics will cover cleaning and assessing the extent of the damage to your device.
Following completing the diagnostics, we will provide you a full quote for any further iPad water damage repair needed to bring your device to complete the working order. Our success rate is over 85% on water-damaged iPads.
If we cannot fix your iPad, we will return it to you with nothing more to pay.
PLEASE NOTE: Damage incurred to an iPad water damaged or dipped iPad is widespread and often unpredictable. Though uncommon, not all water/liquid damaged iPads can be fixed, and their performance and functions can deteriorate over time.
iPad Water Damage Repair Cost
iPad Water Damage Repair Near Me / iPad Water Damage Repair Mumbai / iPad Water Damage Replacement / iPad Liquid Damage Repair